WATCH URBANCE PILOT NOW!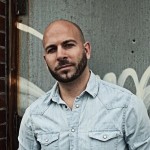 URBANCE'S PILOT IS NOW ACCESSIBLE FOR FREE TO EVERYONE!

Thanks to the amazing support of the Urbance community through the Kickstarter campaign, the Urbance pilot was green-lighted for production in January 2015. The pilot was produced in 9 months between Canada, Japan and France, and ended in September 2015. It was a blessing and a wonderful first experience to work with such an amazing and talented team of artists from all around the world. Yapiko Animation did an incredible animation job, which was led by Hiroshi Shimizu (Porco Rosso, Princess Mononoke). On the other hand, the original soundtrack was created by PLAID, a talented duo from UK, as well as many other brilliant music composers: The Tanuki Project, B.Ames and High Klassified. Each one of them instinctively mixed up our vision with their unique color. Lastly, Total casting, Spacesheep and Hifi-Génie also contributed into making this pilot a success. Up until now, the screening was restricted to kickstarter backers and festivals only. We are very happy to finally share the pilot with you.
Enjoy the Watch!
Countries of production : Canada, France | Year of production : 2015
Production : Steambot, DFP | Animation: Yapiko Animation
Direction : Joël Dos Reis Viegas, Sébastien Larroudé
Music : Plaid, The Tanuki Project, B.Ames, High Klassified
Visual ID : 123 Klan
Main voices: Ryan George, Vanessa Hasid, Ben Cardilli, Marie Nonnemacher
FX/Compositing : Spacesheep | Sound : Total Casting, Hifi-Génie